Art & culture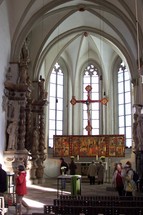 Bad Wildungen has many faces - a forward-looking town with a strong sense of its history, it is also laid-back and cosmopolitan. The local history museum provides information about the region's judicial system in the Middle Ages as well as historical arts and crafts. The Spa Museum is a showpiece for the whole of Hessen. The impressive Gothic town church was built some time between the 13th and 14th century.
Local history museum
Set in a historical timber-framed house in the old quarter, the local history museum documents the early history of the area around Bad Wildungen and the history of the town up until the middle of the 19th century, when it underwent a number of changes during its transition into a spa resort. One of the main attractions in the early history section is a fully preserved Neolithic corpse in a seated burial position. Other exhibits include important finds from the Ice Age and a number of Stone Age tools.
Spa museum
The Spa Museum illustrates the history of the spa and town of Bad Wildungen in the early 19th and 20th century, along with the high society life that spa guests enjoyed at the new spa facilities built in the 19th century along the Brunnenallee close to the Georg Victor Spring.
Town Church
Set on a hilltop lined with timber-framed houses in the heart of the picturesque medieval old quarter is Bad Wildungen's town church. It houses the famous winged altar by Conrad von Soest dating from 1403, one of the foremost examples of Hessian panel painting and also the first work of European art north of the Alps to depict a person wearing glasses.
Top of page
Map of Germany
Map showing all of Germany's TOP travel destinations...
Click here!
Search in surrounding area