Suggested excursions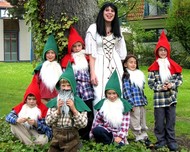 You simply have to come and experience Bad Wildungen and the Waldecker Land region with its dense forests, crystal-clear lakes, gently rolling hills and wide, open plains for yourself. Many fairytales start with "Once upon a time...". Travel the German Fairytale Route and create a fairytale that is yours to keep. Bad Wildungen is home to Snow White, and the Seven Dwarves are said to come from Bergfreiheit. For a great day out, you should visit Fort Fun adventure park.
German Fairytale Route
The German Fairytale Route runs for more than 600 kilometres through a region full of literary invention from Bremen to Hanau. Offering some glorious walking and cycling terrain, it takes you on a magical journey, linking more than 70 towns and villages associated with the Brothers Grimm and the realm of fairytales, sagas, myths and legends.
Bergfreiheit, the home of Snow White
The tale of Snow White is actually based on real-life characters. The fairytale created by the Brothers Grimm comes from a thesis written by a theologian that describes the conditions of children working in the copper mines of Bergfreiheit and the tiny, narrow miners' houses. Bergfreiheit is now known throughout the region and beyond for its fairytale-related activities. Other attractions include Bertsch copper ore mine and the one-room miners' houses. Visitors wanting to find out whether Snow White and the Seven Dwarves really did exist or not are sure to find the answer here.
Fort Fun adventure park
Covering an area of 750,000m², this western-style theme park and holiday village is set in the delightful countryside of the Sauerland region. With its beautifully crafted backdrop, the park takes visitors back to the days of the Wild West. There's plenty of entertainment for all with more than 40 rides, from traditional fairground rides to the latest attractions. The park also has a colourful show programme featuring stunts, slapstick and acrobatics and themed family restaurants. Log cabin-style accommodation is available for those who wish to stay a little longer.
Top of page
Map of Germany
Map showing all of Germany's TOP travel destinations...
Click here!
Search in surrounding area