Medical facilities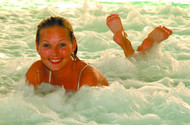 Bad Pyrmont has a 2,000-year history of medicinal springs and a 500-year history as a health resort, founded on many years of experience and an extensive range of treatments. The path to healing, recovery and recuperation leads to Bad Pyrmont and the natural remedies it has been offering for centuries. Patients can choose from a range of medical services, therapies and spa treatments offered in conjunction with the specialist clinics.
Klinik Fürstenhof
Situated in a central location in Bad Pyrmont - right beside the spa gardens - the Fürstenhof clinic has much to offer. Patients at the clinic can enjoy the tranquillity of their rooms as well as a whole host of cultural attractions in the spa resort. With its own physiotherapy and physical therapy department, the clinic can offer all treatments in house. Special dietary requirements are also catered for. Treatment is offered for the following conditions: gynaecological complaints, cardiovascular disease, internal complaints, oncological diseases, osteoporosis, metabolic disorders, musculo-skeletal illnesses, orthopaedics, as well as recovery after accidents and injuries.
Klinik Dr. Otto Buchinger
The Buchinger Clinic is one of the most prestigious centres for naturopathic treatments and holistic medicine. Offering a combination of complementary medicine, traditional diagnostic methods and more than 80 years of experience, the clinic looks at the individual as a whole and the complex interrelation between body, mind and soul. The clinic offers treatment for metabolic disorders, nutritional therapy, fasting therapy and naturopathic treatments.
Psychosomatische Fachklinik Bad Pyrmont
The teaching hospital for Hannover Medical College specialising in all psychosomatic illnesses. Treatment is offered for the following conditions: bulimia nervosa, anorexia nervosa, depression, sleep disorders, anxiety attacks, pain, obsessive-compulsive disorders and grade 3 obesity.
Top of page
Map of Germany
Map showing all of Germany's TOP travel destinations...
Click here!
Search in surrounding area