Suggested excursions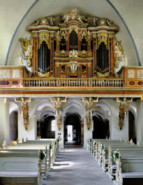 Bad Pyrmont in the Weserbergland hills is an ideal base for excursions to historical destinations in the beautiful surrounding area. Emperors, kings, princes and other nobles all came to appreciate this beautiful corner of the world in days gone by. You can find out more royal facts on the "House of Orange Route" or follow in the footsteps of the monks in the Corvey region. If you are looking for fun and action, then visit the Rasti-Land theme park.
The House of Orange Route
This "route of kings" runs through Germany and the Netherlands, linking places connected with the royal House of Orange. A journey that is as exciting, captivating and incredibly varied as the history of the House of Orange itself. Bad Pyrmont also has associations with the
Oranje
tradition. The House of Orange Route, which runs for a total of 2,200 km and explores the history of the mighty House of Orange-Nassau, has become a popular highlight with insiders. Along the way, you can visit a number of impressive castles and fairytale palaces, housing exhibitions of art treasures and surrounded by picturesque gardens and parks.
Rasti-Land
Rasti-Land near Salzhemmendorf is a theme park for the whole family and a popular place to visit. The park has a wide range of rides and attractions including the "Blizzard" bobsled run, a roller coaster and log flume ride as well as a water slide paradise with six different water slides. Visitors can also enjoy a short themed tour of a pirates' lair and take a ride on an expedition boat through the prehistoric world of the T-Rex.
Corvey Castle and Abbey
The imperial abbey of Corvey was one of the foremost Carolingian abbeys ever founded in medieval Germany. The transfer of the relics of St. Stephen and St. Vitus to Corvey led to its rise in status. Today, the fascinating west section of the abbey church still reflects the importance of Corvey abbey, and the spiritual and economic influence it had on the Christianisation of Saxony and northern Europe. Corvey went on to enjoy another heyday during the baroque period. With the building of a new abbey church in 1667-1674, Christoph Bernhard von Galen, prince bishop of Münster and Corvey's administrator at the time, embarked on the most prolific period of construction the abbey had seen up to 1740. The complex was later converted into a baroque residence, providing the princes with a suitable setting in which to show off their wealth. An important legacy from the 19th century, the royal library contains approximately 74,000 books.
Top of page
Map of Germany
Map showing all of Germany's TOP travel destinations...
Click here!
Search in surrounding area