Art & culture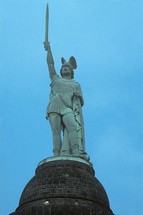 A prestigious mineral and mud spa and former royal spa, Bad Pyrmont in the Weserbergland hills is an excellent insider's tip for those interested in art and culture. The region has an incredible wealth of castles, palaces, historical old quarters, museums and open-air museums. The art collections on display at the historical Hämelschenburg Castle are also well worth a visit.
Hämelschenburg Castle
Visit Hämelschenburg Castle - one of Germany's foremost cultural monuments - for a journey into the world of the Renaissance. With its art collections, gardens, service quarters and church, this impressive castle is considered one of the finest examples of Weser Renaissance architecture and one of Germany's most beautiful Renaissance complexes. On an individual guided tour, you will visit a number of historical rooms from the entrance hall to the vaulted cellars.
Monument to Hermann the Cheruscan
The monument to Hermann the Cheruscan stands in the Teutoburg Forest near Detmold in the beautiful Lippe region. It commemorates the Varus battle (or Hermann's battle) in 9 AD during which the entire Roman occupying force consisting of three legions and six auxiliary contingents, an army of about 25,000 men all together, suffered a devastating defeat.
Externsteine natural monument
Just a few kilometres from Hermann the Cheruscan's statue is the impressive
Externsteine
natural monument, which stands 40 metres high. It is part of the mountain range of the Teutoburg Forest that was formed during the Cretaceous period and consists predominantly of sandstone. This striking group of rocks is also part of the nature reserve of the same name. Relics from the Upper Palaeolithic found here, such as flint tools, spearheads, blades and stone chippings, show that there were people living at the foot of these rocks in around 10,000 BC.
Top of page
Map of Germany
Map showing all of Germany's TOP travel destinations...
Click here!
Search in surrounding area