Nature & greenery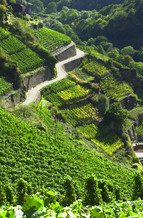 The area in and around Bad Neuenahr has a wealth of natural attractions and is therefore a popular destination for excursions. Visitors can enjoy a magnificent combination of exhilarating countryside and extensive walking and cycling trails.
Ahr Red Wine Route
On its way towards the Rhine, the river Ahr takes a series of sharp twists and turns through bizarre rock formations, where lush vineyards cling to the bare rock. It may be hard to believe, but it's true: a mediterranean climate provides optimal conditions for the grapes grown in the beautiful Ahr Valley, Germany's most northerly red wine producing area. The result is a number of first-rate wines including a rich, full-bodied red wine with a high tannin content and a honey-yellow riesling. The region is also a popular destination for walking and cycling enthusiasts. The Red Wine Trail runs through large expanses of magnificent countryside, passing countless beautiful vineyard terraces along the way. There are also a number of wine-growing villages where you can stop off for a drink or something to eat.
The Eifel region
The Eifel has a host of rare geological treats in store for the visitor. Part of the Rhenish-Westphalian Slate Mountains situated on the left-hand side of the Rhine between the Cologne basin and the Moselle, the region was shaped by volcanic activity in the Cenozoic period. Everywhere you go there are traces of prehistoric volcanic activity. Yet what has remained unchanged is the austere beauty of its natural scenery, at its core the Volcanic Eifel – volcanoes that have been extinct for 10,000 years. This region is an enriching one in which to walk with neatly kept villages, castles, palaces, abbeys, lakes, waterfalls and over 500 sparkling mineral springs. Other attractions include the Eifel Lakes, with Europe's largest system of dams.
The Moselle
At 545km long, the Moselle is the longest tributary of the Rhine, known around the world for its romantic river scenery and fantastic wine. You'll find idyllic winegrowing villages and vineyards with familiar names, taverns and cultural history at every turn. The meandering river valley with its steep vineyard slopes could be compared to a "natural vine-bedecked amphitheatre". A new vista awaits visitors around every twist and turn in the river.
Top of page
Map of Germany
Map showing all of Germany's TOP travel destinations...
Click here!
Search in surrounding area