Medical facilities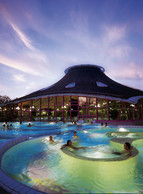 For almost 150 years, the spa resort of Bad Neuenahr has specialised in the treatment of internal complaints and orthopaedics. Over the decades, a number of excellent clinics and sanatoriums have been established here, around the therapeutic mineral springs, which also produce the famous Apollinaris mineral water. Natural mud treatments from Bad Neuenahr were introduced in 1908, and went on to become extremely popular around the world. Today, the spa resort only offers natural "fango" mud treatments, which have three distinct therapeutic effects.
Fachklinik Kurköln
A specialist clinic offering treatment for the following complaints: degenerative and chronic rheumatic diseases, as well as internal cardiovascular, gastroenterological and endocrinological diseases (incl. diabetic foot syndrome). In addition to the various treatments on offer, patients can also use the longest "walking course" in the area, which runs along the river Ahr in front of the clinic.
Rehabilitationsklinik Niederrhein
Many illnesses can also lead to psychological problems for patients and their relatives. The Niederrhein Clinic has developed a treatment concept for these problems that combines medical, psychological and sociotherapeutical approaches. A rehabilitation centre for diseases of the digestive organs and metabolic disorders including oncology (tumours of the digestive organs, female reproductive organs and breasts), diabetes mellitus: young people and adults with type 1 and 2 diabetes, secondary and pancreoprivic diabetes.
Orthopädisch-rheumatologische Fachklinik Jülich
The Jülich specialist clinic for orthopaedic and rheumatological complaints is a centre for follow-up treatment and rehabilitation as well as residential rehabilitation. It offers treatment for the following complaints: degenerative rheumatic diseases, recovery after orthopaedic operations and accidents, recovery after fractures and musculo-skeletal operations including joint replacements, and chronic rheumatic diseases.
Top of page
Map of Germany
Map showing all of Germany's TOP travel destinations...
Click here!
Search in surrounding area