Suggested excursions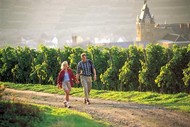 There are a number of interesting places to visit in Bad Neuenahr and the surrounding area. Whichever direction you set off in, you'll find a number of tranquil towns and villages offering great hospitality. Alternatively, you can experience the thrills of the racetrack at the nearby Nürburgring.
The legendary Nürburgring racetrack
Nürburgring is one of the most famous racetracks in the world. Tens of thousands of people flock to the legendary circuit to watch Formula One racing. The Nürburgring also hosts a wide variety of other events between April and October. Other attractions at the racetrack include the "ErlebnisWelt" exhibition and leisure park, the BMW Ringtaxi, an opportunity to drive on the Nordschleife (northern circuit), indoor karting, the auto-motor-sport driver safety centre, the Zakspeed Nürburgring racing driver school, as well as circular footpaths and a mountain bike trail.
Rhinegold Route
Following the 1,320-km course of the Rhine from its source in Switzerland to the river's mouth in the North Sea, the most interesting section is without doubt the Middle Rhine and the Rhine Valley between Mainz and Bonn. The region has been shaped by legends and fairytales, as well as a number of historical and political events, medieval battles, the religious feuds of the Electors, and spiritual and military conflicts. The route derives its name from the Song of the Nibelungs. Written in 1200, it tells of how the sinister Hagen, whose family home is said to have been in the Hunsrück region, sunk the legendary Nibelung's treasure here in the Rhine.
Klotten Wildlife and Leisure Park
Klotten Wildlife and Leisure Park is situated on a ridge between Cochem and Klotten, surrounded by some of the most spectacular scenery along the Moselle. Set amidst a wealth of ancient woodland, the park has a number of exotic and native wild animals kept in large open-air enclosures. The adventure park and playground with its Nautic-Jet ride, cable car, roller coaster, various carousels, swings and other rides is a thrill for children of all ages. There are also around 15 rides and attractions for the young at heart.
Top of page
Map of Germany
Map showing all of Germany's TOP travel destinations...
Click here!
Search in surrounding area