Places of interest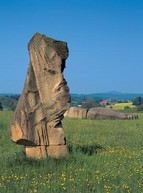 The small town of St. Wendel has a population of just under 30,000, and has the advantage of being located amid the diverse, ever-changing landscape of the Saar-Hunsrück nature reserve. Even today, the old quarter simply oozes history, while a field of huge rock sculptures crafted by contemporary artists marks the beginning of the "Sculpture Route". The grave of Saint Wendelin is another of the attractions found in this Saarland town.
Basilica with tomb of St. Wendelin
The most famous landmark in St. Wendel is the late-Gothic hall church from the 14th century. It is widely regarded as one of the finest religious buildings in Saarland and is dedicated to Saint Wendel, after whom the town is named. The raised tomb with the remains of the town's patron saint is well worth seeing, as are the painted vaults and the late-Gothic pulpit.
Sculpture Route
Stretching from St. Wendel to Lake Bostalsee the Sculpture Route is a 25km trail of artistic splendour. 48 artists from eleven countries have created a unique open-air gallery, which ranks as one of the most popular cultural attractions in the Saarland region. Explore the Sculpture Route at your own pace, either on foot or by bike.
The old quarter
To really experience the magic of the town you should head for the old quarter. There's something different around every corner, whether its winding alleys, arches, cobbled streets, medieval houses or squares restored to their former glory. After an eventful day, why not sit back and relax amid the traditional surroundings of an inn or restaurant?
Top of page
Map of Germany
Map showing all of Germany's TOP travel destinations...
Click here!
Search in surrounding area