Food & drink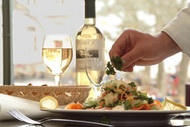 The influence of French cuisine is clear to see in Saarland's restaurants, though there's still plenty of room on the menu for an array of traditional dishes, such as
Gefillde
, mince-filled potato dumplings, and
Geheirade
, a casserole made with potatoes and flour dumplings. International cuisine is also well established in Saarland, ensuring that there is a wide range of choice that will suit all tastes.
Kunz restaurant
The delicate French-mediterranean cuisine on offer here is rated highly by the Michelin and Gault Millau restaurant guides. The wine list offers gems from the Moselle and Saar vineyards, as well as selections from all over the world. Dining in either the conservatory, the Jakobsstube room or the mediterranean-style gourmet restaurant, you will be well looked after by the friendly and attentive waiting staff.
Luise restaurant
As part of the "Angel's am Fruchtmarkt" hotel, this restaurant is open for breakfast, lunch and dinner. Freshness and quality are the watchwords on the menu at the "Luise", where regional specialities sit happily alongside international dishes. The constantly changing daily and weekly specials boards have dishes that are typical for that particular season. In winter for example, you can treat yourself to a
Christstollen
"Melba", with peach ice cream, raspberry jus and white sauce made with marzipan and rum.
"Hotellerie Hubertus" hotel restaurants
The town of Tholey, around 12km from St. Wendel, is home to the "Hotellerie Hubertus". This hotel boasts a trio of first-class restaurants that have something to suit every palette. Breakfast in "Café Palazzo" is the perfect way to start you day, and from midday, it also offers a range of tantalising Italian dishes. "Marktstube Juneperus" specialises in regional specialities such as
escargot ragoût
or
Lyonerpfanne
(sausage casserole), or you can choose to indulge in French cuisine in the vaulted gourmet restaurant, basking in the warmth of its open fire.
Top of page
Map of Germany
Map showing all of Germany's TOP travel destinations...
Click here!
Search in surrounding area