Museums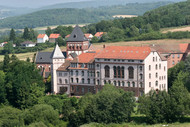 The Mission and Ethnographic Museum in St. Wendel chronicles the work carried out by Steyler missionaries. The Saarland Museum in Saarbrücken, the regional capital, boasts an impressive collection of contemporary works of art, most of which are housed in the Modern Gallery.
Mission and Ethnographic Museum
This 19th missionary house is perched high above St. Wendel on Atzenhübel hill. Besides the mission church and the Arnold Janssen school it also houses the Mission and Ethnographic Museum. Visitors are given a fascinating insight into the lifestyle of foreign cultures as well as missionary work carried out in third-world countries.
Saarland Museum
In Saarbrücken, the Saarland Museum showcases important works of art from the Middle Ages to the present day. Opened in the 1920s, it was originally a local history museum. Today its collections are housed in the palace church museum, the Modern Gallery, the State Gallery and the Old Collection. In the Modern Gallery, works of art from the 19th and 20th centuries give a particularly impressive overview of how modern art has developed.
Top of page
Map of Germany
Map showing all of Germany's TOP travel destinations...
Click here!
Search in surrounding area