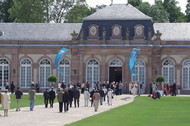 Held for over 50 years now, the Schwetzingen Festival takes place every spring in the palace gardens, which are magnificent at this time of year with the flowers in full bloom.
A festival like a midsummer night's dream
The festival aims to blend old and new, so expect to encounter works from past centuries, as well as new operas and concerts, composed specifically for this spectacular occasion. The majority of the artists, composers and singers see the Palace Festival as a springboard to a successful career. More than 50 events ensure there is something to suit the tastes of every music lover.