Neustadt an der Weinstrasse - Other areas of interest
Top of page
Places of interest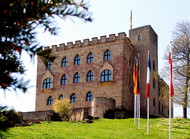 The town of Neustadt on the German Wine Route lies at the edge of the Palatinate Forest in a region which enjoys plenty of sunshine. The historic old town with its narrow, winding alleyways and medieval architecture, as well as its wine-producing tradition which is an integral part of Neustadt's culture, make this a charming and pleasant little town. Neustadt's most famous architectural landmark is the Gothic collegiate church, but the baroque town hall, the ruins of Wolfsburg Castle, the festival hall and Hambach Castle are also well worth a visit.
Gothic collegiate church
The collegiate church in the market square is over 500 years old and is the town's most famous landmark. It has two steeples of differing heights which tower over the town. Inside the north steeple you can marvel at the largest cast-steel bell in the world and from the south steeple you can enjoy magnificent views over the town.
Elwetridsche fountain
The beautifully designed Elwetridsche fountain is named after the
Elwetridsche
, the emblem of the Palatinate region. It is a strange looking, colourful and bird-like mythical beast, which has been the source of countless stories.
Hambach Castle
Hambach Castle was built in the 11th century and is famous for the Hambach Festival where history was made. In 1832, 30,000 protesters held demonstrations here for a united Germany, which at the time was threatening to disintegrate into numerous small states. Today Hambach castle, "the cradle of democracy", is a venue for exhibitions and conferences.
Top of page
Map of Germany
Map showing all of Germany's TOP travel destinations...
Click here!
Search in surrounding area