Neustadt an der Weinstrasse - Other areas of interest
Top of page
Events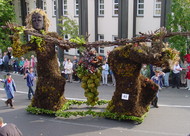 Whether its spring, summer, autumn or winter it's always high season in Neustadt on the German Wine Route. The region's first wine festivals of the year take place in February and the last ones go on well into October. Highlights of the Neustadt calendar of events include the grape harvest festival (
Weinlesefest
), events held at Neustadt Abbey and the Court Culture (Hofkultur) and Street Entertainment (Gaukler) Festivals which take place in alternating years.
Grape Harvest Festival (Weinlesefest)
The absolute highpoint of the wine festival season is the grape harvest festival (
Weinlesefest
) which lasts from the end of September until the middle of October. Every year hundreds of thousands of visitors converge on Neustadt to celebrate a successful harvest with the grape growers. The highlights of the festival are the crowning of the wine queen and the opportunity to taste German wines and sparkling
sekt
. Germany's largest wine festival parade takes place on the second Sunday in October and afterwards there is a spectacular firework display which marks the end of this colourful festival.
Street Entertainment Festival (Gauklerfest)
The Neustadt Street Entertainment festival takes place every two years and is one of the best festivals of its kind in Germany. It is held in July when you can watch magicians, acrobats, body theatre, clowns, jugglers, musicians and much more against the stunning backdrop of the old town. This fantastic spectacle is also accompanied by a craft market.
Court Culture Festival (Hofkulturfest)
The Court Culture Festival also takes place every two years and offers an exciting mix of fine arts, music, literature and much, much more. Artists from the most diverse of disciplines and styles turn the courtyards and alleyways of the old town into one big arts centre.
Top of page
Map of Germany
Map showing all of Germany's TOP travel destinations...
Click here!
Search in surrounding area