Neustadt an der Weinstrasse - Other areas of interest
Top of page
Food & drink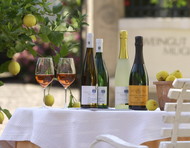 In Neustadt you can dine on Palatinate specialities in cosy surroundings. Regional delicacies include
Pfälzer Saumagen
, which is a sausage-like dish made from pork and potatoes simmered in a pig's stomach, and Palatinate rump steak which is traditionally served with roast onions and potatoes. These dishes are on the menu in many good old-fashioned inns as well as exclusive five-star restaurants. Neustadt also has a number of restaurants serving international cuisine.
Nett's restaurant and wine bar
Nett's charmingly decorated cellar restaurant in the village of Gimmeldingen serves light Mediterranean-inspired dishes together with regional specialities. To accompany your meal there is a selection of fine wines from across the region, other parts of Germany and the rest of Europe.
Becker's Gut restaurant
Becker's Gut is a quiet restaurant in the village of Diedesfeld, 5.5km outside Neustadt. It serves traditional, French-style cuisine and its own versions of regional dishes. The wine list has a selection of excellent wines.
Eselsburg tavern
Visitors to the Eselsburg wine tavern in the village of Mussbach are captivated by its unusual interior with walls covered in all kinds of decorations and ornaments. It serves typical Palatinate cuisine, in other words first-class, good old-fashioned cooking. You can also expect very friendly and efficient service.
Top of page
Map of Germany
Map showing all of Germany's TOP travel destinations...
Click here!
Search in surrounding area