Places of interest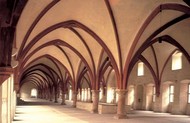 The Rheingau is an area of idyllic scenery where the Rhine leaves its south-north course between Mainz and Wiesbaden and swings round to the west until it reaches Rüdesheim. In this region, where Eberbach Abbey was built some 800 years ago, you will also find picturesque towns and cities such as Rüdesheim and Wiesbaden as well as taste some of the finest wines in the world.
Eberbach Abbey
Founded by Saint Bernhard in the 12th Century, Eberbach Abbey is situated in the heart of the Rheingau, and is the only abbey in Germany with all of its main buildings still fully intact. A number of tours led by experienced guides are offered, covering themes such as "architecture", "abbots, aristocracy and archbishops" and "the Cistercian monks and their books". There is also a wine-themed tour with a wine tasting.
Rüdesheim
The inescapable romanticism of the Rhine, the historic palaces and ancient castles, excellent riesling and pinot noir wines, together with Rüdesheim's famous hospitality and conviviality give the town a very distinctive atmosphere. Popular attractions in this charming little town on the Rhine include the Drosselgasse lane with its wine taverns and gardens, and the Niederwald monument depicting the mythical figure of Germania.
Wiesbaden
The glorious architecture of the Wilhelminian era, lush parks and gardens and a wide choice of cultural events are the prominent features of this elegant city on the Rhine. Wiesbaden's focal point and main landmarks are the spa assembly rooms and elegant casino, built in 1907 under the aegis of Kaiser Wilhelm II. Other highlights are the Hessian State Theatre, the historical old quarter with the palace, the old and the new town hall and the neo-Gothic Market Church, as well as baroque Biebrich Palace on the banks of the Rhine and Neroberg hill with its Russian Church.
Top of page
Map of Germany
Map showing all of Germany's TOP travel destinations...
Click here!
Search in surrounding area