Nature & greenery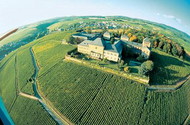 Enchanted by the beauty of the landscape, Goethe used to enjoy taking walks here. The Rheingau and Lower Taunus have countless marked footpaths on a variety of different routes, including the Rheingau Riesling Trail and the path that follows in the footsteps of Saint Boniface. With their vine-clad slopes, forests and fields, the Rheingau and Taunus are perfect for getting away from it all.
Rheinsteig trail
On this 320km route between Bonn, Koblenz and Wiesbaden, walkers in search of a challenge will find narrow paths and tricky ascents that offer spectacular views of the beautiful landscape, with secluded vineyards in the Rheingau, steep rock faces in the Upper Middle Rhine Valley and cool mountain valleys in the Siebengebirge hills. Cultural monuments and towns rich in history are also found within easy reach of the Rheinsteig trial.
Rheingau Riesling Trail
Beloved by wine connoisseurs, this route is also popular with people who only enjoy a drop now and then. Passing towns such as Assmansshausen, Johannisberg, Hallgarten and Hochheim, you can partake in an epicurean wine tasting, visit a variety of wine merchants and taverns or take a stroll through Wiesbaden or Rüdesheim. All the senses come into play for wine-lovers to fully appreciate everything this route has to offer.
St. Boniface Route
This walking and pilgrimage route from Mainz to Fulda takes walkers along the path Boniface's funeral procession is said to have taken when bringing the church reformer and missionary to his final resting place. In the tradition of classic pilgrimage routes, this 180km trail is a blend of stunning scenery, fascinating diversions and the hallmarks of a landscape that has been cultivated for hundreds of years. The paths are well signposted, with additional information boards pointing the way to places of interest.
Top of page
Map of Germany
Map showing all of Germany's TOP travel destinations...
Click here!
Search in surrounding area