Suggested excursions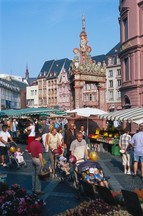 There are a number of fascinating towns and cities within easy reach of Eberbach Abbey, either in Baden-Württemberg or amid the beautiful scenery of Rhineland-Palatinate. Its location near the Rhine-Main region means it benefits from excellent transport links, making it really easy to hop from one place to another. Lively towns and cities such as Mainz, Mannheim or Ludwigshafen are all just a short journey away.
Mainz
Mainz, the charming capital of Rhineland-Palatinate, ideally located at the confluence of the Rhine and Main, has
savoir vivre
, a unique ambience and a cosmopolitan outlook. A number of impressive buildings, monuments and museums serve as reminders of the town's colourful history. Magnificent baroque buildings, palaces and the imposing cathedral date back to the time when the Prince Electors ruled here. With Augustinerstrasse, a vibrant shopping street and heart of the old town, and the picturesque Kirschgarten and Leichhof squares, the old quarter is an ideal starting point for a stroll around the town.
Mannheim
Mannheim, the unofficial capital of the Palatinate region, has always attracted artists and art enthusiasts throughout history. Today, the city continues to enjoy its reputation as a centre for art with an extensive range of cultural monuments. The Electoral Palace is the largest self-contained baroque complex in Germany and is also home to part of the university. Mannheim's famous landmark, the water tower, stands on the highest point of Friedrichsplatz square. In the summer, the area around the water tower is a popular meeting point for people of all ages a great place to escape the stresses of city life.
Ludwigshafen
There is so much to see and do in Ludwigshafen. Go on a shopping spree in the Rathaus Center or amble around the shops in Bismarckstrasse and Ludwigstrasse. Art lovers will find numerous works on art on display all across the town, as well as exhibitions in the Wilhelm Hack Museum with its well-known ceramic mosaic wall by Miró. Treat yourself to a bite to eat in one of the lively restaurants in Hemshof or round off a great day with a well-deserved drink in a town-centre inn.
Top of page
Map of Germany
Map showing all of Germany's TOP travel destinations...
Click here!
Search in surrounding area