Art & culture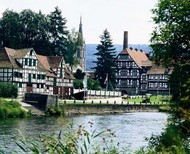 Hessen and the Rheingau also boast an array of art and cultural attractions. In Wiesbaden, the regional capital of Hessen, visitors will find fascinating museums, the Hessian State Theatre and a wide range of seasonal festivals, while towns such as Eltville, Hochheim and Idstein are situated right on the German Half-Timbered Houses Route. Other popular attractions include the Hessen Summer of Culture and an abundance of wine festivals in late summer.
Hessen State Museum, Wiesbaden
Wiesbaden Museum fulfils a multitude of functions and enjoys international acclaim for its outstanding collection of Expressionist paintings. As well as its art collection, this classical building built in 1915 houses the Nassau Antiquities Collection and also the Natural Sciences Collection with exhibits on the natural history and culture of the region. Its regular contemporary art shows and exhibitions on fascinating natural history topics are highly regarded.
German Half-Timbered Houses Route
Germany's half-timbered houses come in a wealth of different styles, shapes and colours. People all over the world use timber to build houses, but Germany's extensive heritage of half-timbered buildings is second to none. Inspiration and entertainment are provided all year round by numerous festivals, markets and events. Culture lovers can enjoy castle concerts of international standing, open-air theatre and castle festivals and interesting exhibitions.
Hessian State Theatre Wiesbaden
Opera, drama and ballet productions together with a wide range of repertory shows are part of the theatre's comprehensive cultural offering that also includes classical works as well as modern music theatre. Because all three of the Hessian State Theatre's stages can be used simultaneously, it is not unusual for four performances to take place on one day.
Top of page
Map of Germany
Map showing all of Germany's TOP travel destinations...
Click here!
Search in surrounding area