Nature & greenery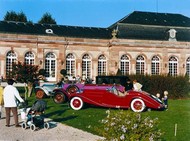 There are so many exciting things to do in the region surrounding Hockenheim. Along well-signposted paths you'll find stunning landscapes at every turn. Explore the region on foot in the Hardt forest, or enjoy first-class culinary experiences along the Asparagus Route. The palace and palace gardens in neighbouring Schwetzingen meanwhile attract hundreds and thousands of visitors every year.
The Hardt forest
Hockenheim is situated on the western fringes of the beautiful Hardt forest, which lies on the northern Rhineland Plain between Rastatt and Mannheim. People in the surrounding communities use the forest as a place where they can relax and get out into the fresh air, and it is also an essential source of water and an important habitat for plants and animals.
Baden Asparagus Route
The area around Hockenheim is one of Germany's top asparagus-growing regions. Asparagus season is as eagerly awaited by food lovers as the new crop of sweet, juicy strawberries. The Baden Asparagus Route and the cycle trail that runs parallel to it cover around 136 kilometres, from Schwetzingen, the famous asparagus-producing town, to Scherzheim. The delicious white spears are picked here between the middle of April to the end of June, and visitors can watch the harvesters at work and even join in and help. With its fascinating sights and attractions, specialities made from freshly picked asparagus and countless asparagus festivals, this is a culinary route like no other.
Schwetzingen Palace and gardens
Covering an area of 72 hectares, Schwetzingen Palace's Versailles-style gardens were laid during the rule of Elector Carl Theodor (1724-1799). Unique in Europe, the extensive gardens are an impressive blend of the
parterre
, a symmetrically arranged baroque French garden, and the typical English landscaped garden. Throughout their history, a diverse range of water features, fountains, cascades, lakes, ponds and canals have brought the gardens to life.
Top of page
Map of Germany
Map showing all of Germany's TOP travel destinations...
Click here!
Search in surrounding area