Art & culture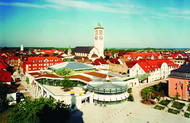 As you might expect from a town with an international reputation and a high quality of life, Hockenheim also boasts a rich and varied cultural programme. The Pumpwerk is an arts centre for all ages, and there's always something going on in the Stadthalle, a multi-purpose events venue. In Heidelberg meanwhile, the musical programme in the Karlstorbahnhof is among the best in all of southern Germany.
Pumpwerk arts centre
Although the Pumpwerk enjoys an excellent and widespread reputation in cultural circles, it has never lost touch with its origins as a youth centre. With a coffee shop, pool room and table football it's a perfect meeting place for young people. There are also plenty of exciting activities for younger children, including creative courses, pottery, silk painting, woodcrafts and children's theatre. The Pumpwerk also stages popular events such as the International Family Festival, Guitar Night and the Jazz and Blues Festival.
Karlstorbahnhof in Heidelberg
The Karlstorbahnhof is
the
place for cultural events in Heidelberg. With its non-commercial outlook, this stylish cultural centre stages theatre performances, variety, lectures, film evenings, clubs and musical events including top-notch jazz extravaganzas such as the "Enjoy Jazz" festival. With its array of theatre events and festivals, the Karlstorbahhof is a name that you can expect to hear time and time again.
Top of page
Map of Germany
Map showing all of Germany's TOP travel destinations...
Click here!
Search in surrounding area