Places of interest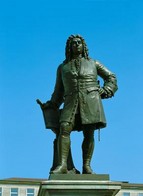 Halle is a town with a rich history. First recorded in 806, its wealth was founded on the salt trade. With a variety of attractions and historical buildings, the old quarter is a great place for visitors to stroll around and get acquainted with the town's colourful past.
Market square and Handel statue
Marktplatz, Halle's largest square, has been the centre of commerce since medieval times. At the end of the 12th century, robe-makers and drapers came here to sell their wares. At the centre of the market square stands a statue of the composer, Georg Friedrich Handel, born in Halle in 1685. From the market square you can make out the silhouettes of five towers, one of them Halle's most famous landmark - the 84-metre-high Red Tower.
Market Church
The Church of St. Mary, also known as Market Church, was created out of two smaller medieval churches. Archbishop Cardinal Albrecht had the naves of the two churches removed in 1529 and a new nave built between the two pairs of towers. The large organ in the west nave was inaugurated in the presence of Johann Sebastian Bach at the beginning of the 18th century. Next to the church is St. Mary's library, Germany's oldest and largest Protestant church library.
"God's Acre"
Dating from the 16th century, this cemetery is a remarkable Renaissance monument. The four-winged site is lined with 94 arched burial chambers decorated with reliefs and inscriptions. After suffering heavy damage during the Second World War, the historical cemetery was left to run wild until 1990, when it was lovingly restored to its original glory.
Top of page
Map of Germany
Map showing all of Germany's TOP travel destinations...
Click here!
Search in surrounding area