Shopping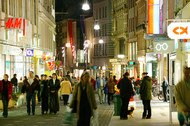 Offering everything from fashion and home furnishings to art, Halle's town centre has something for everyone. With large department stores and small boutiques in its sleepy, romantic streets, the old quarter is a great place for browsing and shopping. There are also plenty of cosy cafés and restaurants where you can stop off for refreshments along the way.
Leipziger Strasse
Halle's fashion district is located in the pedestrian area. Between the station and market square you'll find a range of large fashion stores as well as chic boutiques and small exclusive specialist outlets. The shopping arcades to the left and right of the pedestrian area are well worth exploring. This vibrant street also has plenty of places where you can stop off for a break.
Old market square
The old market square (Alter Markt) and the surrounding streets are mainly home to smaller stores, helping this part of the town to retain its historical character and charming atmosphere. This is the ideal place to combine shopping with a touch of culture, as the quarter's small side streets are full of lovingly restored Renaissance buildings.
Top of page
Map of Germany
Map showing all of Germany's TOP travel destinations...
Click here!
Search in surrounding area