Museums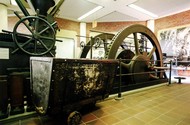 Bochum has a variety of different museums providing visitors with fascinating insights into a range of subjects. Whether you want to discover the underground world of mining or reach for the stars, the choice is yours.
German Mining Museum
The German Mining Museum is one of the most visited museums in the country and offers both a surface exhibition and an authentic underground visitor's mine. There are wonderful panoramic views of Bochum and the Ruhr region from the pithead frame of the foremost mining museum in the world.
Zeiss Planetarium, Bochum
Lift off for a fantastic journey into space from the Zeiss Planetarium, Bochum. From here you can also view the stars from the perspective of any point on earth and the vast video projections, computer simulations and 6-channel sound system make a visit to the Zeiss Planetarium a cosmic experience. The program of events is changed every few months which means it's worth visiting the planetarium time and time again.
Top of page
Map of Germany
Map showing all of Germany's TOP travel destinations...
Click here!
Search in surrounding area