Art & culture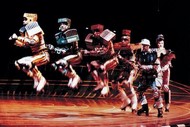 Bochum in the Ruhr region has much more to offer visitors than just industrial monuments. One of the most famous and successful musicals in the world, which has been watched by ten million people, has been playing in Bochum for over 15 years.
Starlight Express
Starlight Express is the fastest-moving musical of all time. In a child's dream, toy trains suddenly come to life and take on human form, and they all want to take part in the World Championship Railroad Race. Starlight Express is renowned for its roller-skating acrobatics, singing and dancing skaters, high-speed races, breathtaking lighting and exhilarating musical numbers.
Bochum Museum
Bochum Museum's art collection contains expressionist masterpieces and works by German and international artists from 1945 onwards. Highlights include prestigious pieces by the COBRA movement, German and French Informal art and striking individual pieces by Francis Bacon and Roberto Matta.
"et cetera" variety theatre
The "et cetera" variety theatre has a permanent place in Bochum's cultural scene with a brand new program every two months featuring international stars of variety theatre. The stage shows are both witty and exciting.
Top of page
Map of Germany
Map showing all of Germany's TOP travel destinations...
Click here!
Search in surrounding area