Events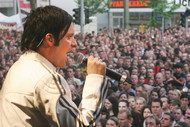 Bochum plays host to many different cultural events including the RuhrTriennale arts festival. In particular, lovers of world-class music are truly in their element in this city.
Bochum Total festival
This annual music festival lasts several days and has developed into the largest European festival of its kind. There is excellent live music from many different bands representing a wide spectrum of musical genres. Lots of previously unknown artists who had their debut in Bochum were later able to break into the music industry.
Ruhr piano festival - the Ruhr region plays host to the world's finest pianists
The Ruhr piano festival is Germany's largest annual event for pianists from across the globe. It is an opportunity for both well-established professionals and also highly talented amateurs to perform to large audiences.
Bochum Christmas market
Bochum Christmas market has almost 200 stalls selling traditional handicrafts, wooden toys, Christmas tree decorations and lots of other beautiful gifts. There is also entertainment in the form of children's fairground rides and other attractions
Top of page
Map of Germany
Map showing all of Germany's TOP travel destinations...
Click here!
Search in surrounding area