Suggested excursions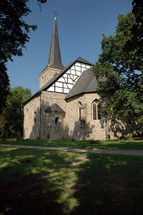 There's a great deal to discover in and around Bochum. Whether you want to take a nostalgic train trip or explore a moated castle, you can do this and much more in the Ruhr valley.
Ruhr valley railway
Trains from the Railway Museum at Bochum-Dahlhausen take you on a nostalgic journey between the museum and Hagen main railway station. This railway trip through the stunningly beautiful Ruhr river valley is an unforgettable experience.
Stiepel pilgrimage church and Cistercian abbey
Stiepel pilgrimage church is one of the oldest buildings in the Ruhr region. It is a pilgrimage site dedicated to the Virgin Mary, somewhere you can go for prayer and quiet contemplation or simply enjoy a pleasant walk through the grounds of the Cistercian abbey.
Kemnade House moated castle
This moated castle is situated a few metres from the river Ruhr and dates back to around the 14th century. The thick, dark walls are a magnificent reminder of medieval times. Today the castle houses the largest collection of musical instruments in North Rhine-Westphalia and one of the largest collections of money boxes in Germany.
Top of page
Map of Germany
Map showing all of Germany's TOP travel destinations...
Click here!
Search in surrounding area