Contact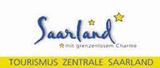 Nature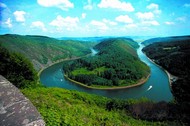 "Une vue splendide", declared France's most famous poet, Victor Hugo, in 1863 when he visited Germany's loveliest river bow, the Saar Bow. Here, just a few kilometres from Mettlach, the Saar makes a complete U-turn and flows back towards its source for a while. The best views of this wonder of nature are to be had from the Cloef viewpoint or the Montclair castle ruins.
Jump on your board and head out into the wind. Anyone planning to head to the 120-hectare Lake Bostalsee should not only pack their swimming trucks, lilo, inflatable toys, but also their windsurfing board. There's a good reason why Saarland's largest lake is so popular.
Top of page
Map of Germany
Map showing all of Germany's TOP travel destinations...
Click here!
Highlights in brief
Saarbrücken
State capital, old quarter, golf
Saarlouis
Fortress, museums
Völklingen
Late 19th century houses, Völklingen Ironworks – UNESCO world heritage site Nonnweiler
Health resort, reservoir, public observatory, astronomy trail
Saarburg
1,000-year-old town, Leukbach waterfall
Freisen
"Sea of rocks" natural monument, viaduct, museums
Mettlach
Health resort, Saar Bow, Montclair Castle Benedictine abbey, ceramics museum, Villeroy & Boch
St. Wendel
Historical old quarter, basilica, Sculpture Route, museums, golf
Nohfelden
Lake Bostalsee, golf
Perl-Borg
Baroque gardens, Roman villa, mosaic floor