Contact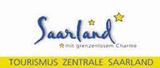 Regional specialities
No one should visit Saarland without trying a
Lyoner
– a ring of frankfurter-style sausage. Best eaten with
Kerschdscher
, diced raw potatoes sautéed in hot fat, although it's also good with warm potato salad or simply with bread and mustard.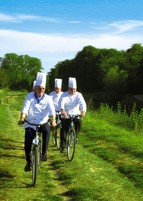 Dibbelabbes is made of grated raw potato, dried meat and leeks, cooked slowly in a "Dibbe" (pot). Apple sauce is the perfect accompaniment.
Gefillde are potato dumplings filled with mince, liver sausage, pepper and salt.
Schales – Derived from the word Schalen which refers to the crispy bits that form while frying. Same mixture as for Dibbelabbe", but here it is sautéed in a pan and turned constantly.
Grummbeerkieschelscher (potato cakes): Grated raw potatoes mixed with eggs, flour, grated onions and seasoning, fried in plenty of oil until golden. Often served with a Saarland apple wine, known as Viez.
Hoorische are elongated potato dumplings which are cooked slowly in simmering water. The recommended accompaniment is a creamy bacon sauce, or sauerkraut.
For Verheiratete, raw potatoes are cut into small chips and cooked in salted water. A mixture is made from eggs, flour and a pinch of salt and nutmeg and dropped from the spoon into simmering water. The "flour dumplings" and cooked potatoes are layered in a serving dish and a sauce made from rendered dried meat and cream is poured over the top.
Top of page
Map of Germany
Map showing all of Germany's TOP travel destinations...
Click here!
Highlights in brief
Saarbrücken
State capital, old quarter, golf
Saarlouis
Fortress, museums
Völklingen
Late 19th century houses, Völklingen Ironworks – UNESCO world heritage site Nonnweiler
Health resort, reservoir, public observatory, astronomy trail
Saarburg
1,000-year-old town, Leukbach waterfall
Freisen
"Sea of rocks" natural monument, viaduct, museums
Mettlach
Health resort, Saar Bow, Montclair Castle Benedictine abbey, ceramics museum, Villeroy & Boch
St. Wendel
Historical old quarter, basilica, Sculpture Route, museums, golf
Nohfelden
Lake Bostalsee, golf
Perl-Borg
Baroque gardens, Roman villa, mosaic floor