Health Resorts & Spas in Germany
top
Places of interest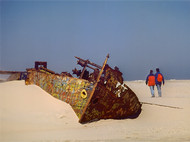 So much of Norderney's architectural heritage is still preserved in its original form. You can walk along whole streets brimming with pretty little Biedermeier houses and classical buildings from the 19th century. When you move on to explore the rest of the island it's well worth paying a visit to the lighthouse, and while you're there head down to the beach to get a closer look at the shipwreck. In Norderney spa centre meanwhile, unwinding and forgetting your everyday cares is an absolute breeze.
Lighthouse
Dating back to 1874, Norderney's lighthouse serves as an orientation aid in the daytime and a golden beacon at night, helping ships navigate their way past the East Frisian islands. Thousands of visitors every year make the effort to climb all 253 steps of this 54-metre-high lighthouse, whose beam can be still be seen at a distance of 37 kilometres. Its beacon is the only one along the German coastline that rotates anti-clockwise.
Shipwreck
On the eastern end of the island the wreck of a mussel dredger has been rusting in the sand ever since it was marooned in 1968. It got stuck when trying to rescue another ship that had ran aground on the sandbank. This beached wreck has since become something of a landmark on the island.
Norderney spa centre
Norderney spa centre takes advantages of the region's natural resources for its health treatments. Covering an area of around 8,000m², it is the largest thalassotherapy centre in Germany. Thalassotherapy uses the beneficial effects of seawater for therapeutic purposes. Achieve harmony and well-being in body and soul in the "wellness zone", a byword for positive energy and endorphins galore. An expert team in the massage parlour is on hand to knead away your stresses and strains, while in the "fun zone" you can enjoy a seawater wave pool, a waterslide, a children's pool, a grotto and an extensive jacuzzi area.
Top of page
Map of Germany
Map showing all of Germany's TOP travel destinations...
Click here!
Search in surrounding area