Health Resorts & Spas in Germany
top
Art & culture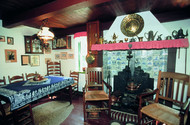 The
Schaumeile
is a historic trail that acts as a window into Norderney's history, showing how this elegant seaside spa resort developed from its origins in fishing and passenger ships. Even today, the traditional thermal baths are seen as the island's architectural and cultural gems. A walk through the dunes leads to the island's signature attraction – the cape navigation tower. The state-approved local history museum, the "fisherman's house", features displays that show how the islanders used to live.
Cape navigation tower
The cape navigation tower is Norderney's most famous landmark and the emblem of the island's coat of arms. Originally built from wood, it was soon replaced by a stone building. Almost 12 metres in height and located on a 15-metre-high dune, it greets passing ships with a triangular lattice marker atop a hexagonal base made from reddish-brown clinker bricks. These navigation towers were once used to alert ships to the presence of land.
"Fisherman's house" museum
The picturesque fisherman's house in the pretty little Argnonne forest is an authentic replica of a house typical of the period around 1800. Since 1937 it has housed the island's state-approved local history museum. In a number of atmospherically decorated rooms, this unique exhibition provides an insight into the history of work, domestic life and culture on the island, chronicling how a fishing village transformed itself into a state-approved spa resort.
Bosseln (Frisian bowling)
Bosseln
, a throwing contest played on roads, is without doubt the best-known and most traditional of Frisian sports. When throwing the
Kloot
(the ball), strength and most importantly a great deal of skill is required to ensure that it rolls as straight and as far as possible without straying off track. The balls reach up to 12cm in diameter and can weigh as much as 1.1 kilogram. They are made of guaiacum wood and are filled with lead. Commentators known as
Mäkler
add spice to events by lavishing praise on the throwers or dousing them with ridicule.
Top of page
Map of Germany
Map showing all of Germany's TOP travel destinations...
Click here!
Search in surrounding area