Health Resorts & Spas in Germany
top
Events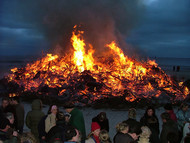 The region is also the setting for an eclectic mix of events. Alongside the German Wind Surfing Championships, there are events covering beach volleyball, horse riding, tennis, football, miniature golf and many other popular new sports. Traditional occasions such as the Easter bonfire and the Harbour festival are also extremely popular with visitors to the region.
Easter bonfire
Year after year, thousands of visitors swarm to Norderney for the lighting of the annual Easter bonfire, which consumes approximately 80 truckloads of wood. Drinks and hot food are available, and if it they don't warm you up, you can always just move that bit closer to the bonfire!
White Sands Festival
Every Whitsun weekend the East Frisian island of Norderney plays host to the White Sands Festival, which provides a superb mix of sport and entertainment. The main attraction is the German Windsurfing Cup, where windsurfing pros parade their talents before countless spectators. Top windsurfers do battle in the racing, freestyle and slalom events, then celebrate until sunrise at a host of parties and concerts.
Norderney Marathon
Every September the Norderney Marathon takes place along its now tried and trusted route. The introductory sections on the streets of Nordhelm give runners the chance to warm up. It's not about the fastest times here, it's about enjoying a run amid fabulous scenic surroundings.
Top of page
Map of Germany
Map showing all of Germany's TOP travel destinations...
Click here!
Search in surrounding area