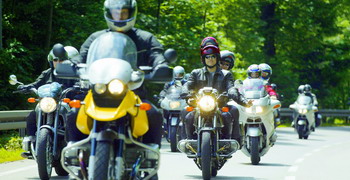 As well as the birthplace of the motorcar, Germany is also the home of the motorcycle. In 1894 the first production motorcycle was built in Germany, and some of the finest models in the world are still manufactured here today.
Enjoy the freedom of two wheels all over the country - on winding roads in the hills or on a tour of picture-postcard towns with their narrow alleyways. Combine the thrill of the open road with cultural attractions and natural beauty - take a trip through Germany by motorcycle along one of the many themed scenic routes or just ride on into the blue.
More Germany by Motorcycle Resources
From "riding car" to boxer engine: the roots of motorcycle manufacturing in Germany
Learn about automotive pioneer Gottlieb Daimler, German motorbikes around the world in the mid-20th century, and more on the history of Germany by motorcycle.
If you're looking for motorcycle tours, Germany has lots of special offers and services for motorbike riders. There are the winding roads of the Alps, Germany's central highlands, clifftops, vibrant cities, historical buildings, and much more. When you travel Germany by motorcycle, there are even hotels to stop at for repair services, drying room, laundry facilities, and other accommodations.
Look here to help plan your vacation whether you're traveling Germany by motorcycle, car, train, taxi, coach, or public transport.