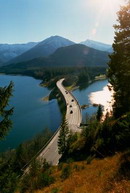 Explore Germany by car. Whether you take your own vehicle or pick up a hire car on arrival at the airport or railway station, you'll find that driving through Germany is the ideal way to make the most of your vacation. An extensive and well-developed road network enables you to reach all your destinations quickly and easily. Discover the country where the motorcar was invented!
Car Rental, Germany
Looking for a car rental in Germany? If you're thinking about traveling Germany by car and don't plan to take your own car, this is your best option. Here are a few of the benefits to car rental in Germany.
Convenience. When you need fast and easy car rental, Germany offers it. Rent your car day or night, at more than 40 railway stations from companies such as Avis, Budget, Europcar, Hertz and Sixt. You can also pick up your rental car from various locations, such as airports and hotels, and begin enjoying Germany by car right away.

Cost and Selection. Depending on the car rental company you deal with, you may be eligible for special weekly rates with unlimited mileage. And you can travel Germany by cars including vans, executive saloons, and compact cars that are all in good driving condition.
Click Here for more information about car rentals in Germany and navigating Germany by car.