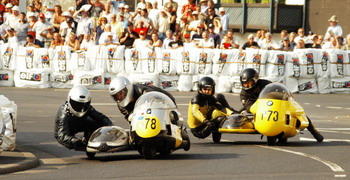 Vintage car rallies and other motorsport events
The gleaming chrome, the squeal of tires and smoke rising from the asphalt - this is the stuff of dreams for racing enthusiasts. A host of events such as world-class Formula 1 racing and the German Touring Car Championship, vintage car rallies, automobile fairs, and motorbike shows attract thousands of visitors to Germany every year. Who wouldn't like to stand back and watch a German car rally or simply get inside a glittering vintage car? You'll certainly find plenty of opportunity to do so in Germany. With several hundred events every year, from vintage car rallies and historical racing events to trade fairs and exhibitions, there's something to please any classic car enthusiast.

Use the links below to get more information on attending a vintage car rally or other motorsport activity.

Make vintage car rallies part of your trip!
You may have checked out the motorcycle and car museums in Germany and even experienced the high thrills of the German racetracks. But your German motorsport experience isn't complete without seeing a vintage car rally. Stop by the Retromotor Classic Car Festival, which is a massive vintage car festival that has featured vintage car rallies, endurance races, and tours for almost 20 years. So don't forget about vintage car rallies and other motorsport events like automobile fairs and motorbike shows when you begin Planning Your Trip. Just use any of the links below to get started and discover more reasons to come to Germany!