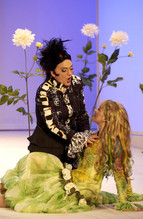 Held every June, the Handel Festival is the highlight of Halle's cultural calendar, attracting visitors from all over the world. As billed, the spotlight falls on Baroque music written by the great composer, from operas to oratorios.
Halle's tribute to its great composer
Georg Friedrich Handel was born in 1685 in Halle, and the town has held this festival in his honour since 1922. Halle Opera House and 11 other theatres stage performances of his legendary operas, oratorios, orchestral works and chamber music to rapturous applause from an international audience.