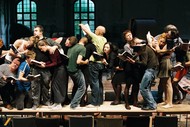 This festival began with the idea of combining the industrial heritage of the Ruhr region with an arts festival. This unique mix produced the RuhrTriennale, a cultural event which has become famous throughout Germany and beyond.
An arts festival at the heart of Europe
The RuhrTriennale takes place each year between mid-August and mid-October in the Ruhr region's exceptional monuments to the industrial age. The focus is on the "Creations" - productions which have strong connections with the locations where they are performed. Fine art, pop and classical music become associated with coking plants, and theatre and opera forge links with former machine halls.