Food & drink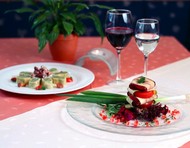 All kinds of delicacies are waiting for you in Wertheim's restaurants. For example, in the restaurants of the Schwan and Martha hotels and at the Tauberhotel Kette you can indulge in regional and international specialities. All three restaurants are set in charming locations and you can count on a relaxing dining experience in pleasant surroundings.
Schwan Hotel
The Schwan hotel is located at the heart of the Franconian wine-producing region and was built on Wertheim's medieval fortifications. A warm welcome awaits you at the hotel restaurant where you'll dine in beautiful surroundings. On the menu are both regional and international specialities.
Tauberhotel Kette
The family-run Tauberhotel Kette is situated at the heart of Wertheim's old town, on the banks of the Tauber river. The hotel restaurant offers international dishes with a seasonal twist as wells as regional specialities such as Wertheim pork roast. To accompany your meal you can choose from a fantastic selection of fine wines, sourced locally and from around the world.
Martha Hotel
The Martha Hotel, set in the idyllic countryside of the Tauber Valley, offers regional and seasonal specialities. Selected wines from the Tauberfranken region are the perfect accompaniment to your meal. On sunny days come and spend some time relaxing in the hotel garden.
Top of page
Hotel search

Looking for an accommodation?
Search and book hotels in Germany »
Map of Germany
Map showing all of Germany's TOP travel destinations...
Click here!
Search in surrounding area