Art & culture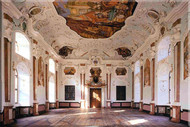 Wertheim's arts and cultural scene enjoys a historical setting: Bronnbach Abbey, a former Cistercian monastery, provides a unique backdrop for first-class theatre productions, concerts and much more. It also houses an annex of the Wertheim County Museum.
Bronnbach Abbey
The abbey was founded in 1151 and its three-aisled basilica, built in an early-Gothic style, was consecrated in 1222. It is an important cultural monument and the state of Baden-Württemberg, together with the town of Wertheim, has developed it as a place for art and culture. Visitors to the abbey can enjoy a first-class programme of events throughout the year including workshops, theatre productions, exhibitions and classical music concerts.
Studio Ruth Roth
In Ruth Roth's studio art lovers can view paintings by the artist herself, focusing on landscapes, plants and people. Ruth Roth holds exhibitions of her paintings on different themes several times a year.
Top of page
Hotel search

Looking for an accommodation?
Search and book hotels in Germany »
Map of Germany
Map showing all of Germany's TOP travel destinations...
Click here!
Search in surrounding area