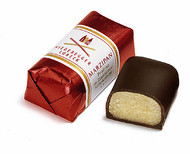 This town of brick-Gothic architecture, known as the Queen of the Hanseatic League with a history going back 1,000 years, is also famous for its Lübeck marzipan, a firm favourite with connoisseurs. "Rotspon", a locally produced red wine, is a fusion of Franco-German viniculture.
Marzipan and the Queen of the Hanseatic League
Surrounded by water, Lübeck's town centre is perfect for a stroll in the exclusive ambience of Hüxstrasse, the vibrant pedestrian zone, its romantic side-streets or to the renowned Cafe Niederegger. Here visitors can relax, enjoy a bite of marzipan, and find out how this almond-based delicacy has developed through the centuries from its oriental origins. Take home the perfect gift for a sweet tooth!