Nature & greenery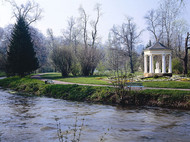 Weimar is surrounded by remarkable landscape parks, with the park on the River Ilm right in the centre of town. The carefully tended parks and gardens are closely associated with different eras in the town's history and reflect their founders' philosophies.
Goethe's summer house and the Roman House in the Park on the Ilm
The Park on the Ilm extends 1.6 kilometres along both banks of the river Ilm southwards from the palace in the very centre of Weimar. Goethe's summer house, the first property he owned and a lifelong place to escape for some peace and quiet, is in the park. Not far away, the Roman House dominates the riverbank meadows. It is built in the style of an ancient temple and was once the summer refuge of Grand Duke Carl August.
Tiefurt Palace and Park
This former ducal summer residence set in charming parkland located just a few kilometres from Weimar is a lovely place for strolling in the grounds and admiring the palace. Today the rooms are decorated to reflect the time when Duchess Anna Amalia lived there. The dining room, drawing room, bedrooms, music room, Goethe's room and Luise von Göchhausen's private salon are tastefully furnished with exquisite porcelain,
objets d'art
and copies of classical works of art.
The royal crypt in the historical cemetery and the Russian Orthodox chapel
The ducal family mausoleum was built in 1827. It is also the last resting place of the writers and friends, Goethe and Schiller, whose tombs are a remarkable sight in the crypt. The Russian Orthodox chapel was commissioned by Grand Duchess Maria Pavlova who is buried there.
Top of page
Map of Germany
Map showing all of Germany's TOP travel destinations...
Click here!
Search in surrounding area