Suggested excursions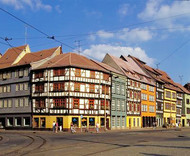 An outing to the medieval city of Erfurt, the Thuringian state capital, is a must. Equally essential is a trip to the lovely town of Jena, known for its university and for household names such as Carl Zeiss and Jena Glass. Wartburg Castle, a UNESCO World Heritage site, is a an impressive historical monument in a stunning setting.
Erfurt, state capital of Thuringia
An excursion to the regional capital of Thuringia takes you to a town which was an influential trading centre and university town in the Middle Ages. Today, extremely well preserved Renaissance and half-timbered buildings, imposing St. Mary's Cathedral, the church of St. Severus and the famous Merchants' Bridge in its medieval town centre still testify to the town's past wealth.
Jena, Zeiss and university town
A university town set amid vineyards in the Saale valley, Jena is known as the centre of the precision engineering and optical industries and is famous for its heatproof Jena glass, but Goethe, Schiller, the Humboldt brothers and the poet Novalis also contributed to the development of this historically important town. There are lots of cosy, traditional bars in the old town.
Wartburg Castle near Eisenach, a UNESCO World Heritage site
Thuringia's most famous landmark and one of the best preserved medieval castles, 800 year old Wartburg Castle is located 75 kilometres south-west of Weimar. It was designated a UNESCO World Heritage site as an outstanding monument which dates back to feudal times in Europe. This is where Martin Luther translated the New Testament into German. 300 years after the Reformation, Wartburg Castle is also associated with the minnesingers' contest, Saint Elisabeth and the German student fraternities festival.
Top of page
Map of Germany
Map showing all of Germany's TOP travel destinations...
Click here!
Search in surrounding area