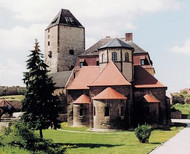 The River Saale, one of the Elbe's main tributaries, rises in the Fichtelgebirge mountains. The Saale region stretches along this river and its tributary valleys, and includes the middle Saale valley, Thuringia's Holzland, Weimarer Land, the Saale bow, and the Thuringian Slate Mountains-Upper Saale region. The main towns around the Saale are Lobenstein, Schleiz, Saalfeld, Rudolstadt and Jena, while in the Weimarer Land region they are Weimar, Apolda and Bad Berka.
The region's most fascinating attractions are the two reservoirs in the south and an incredible number of castles, the like of which you'll only find on the Rhine. The dam walls of Bleiloch reservoir, five kilometres downstream from the small town of Saalburg, are 65 metres high. The reservoir contains 215 million cubic metres of water, making it the largest in Germany. Once the border between the lands of the Teutonic and Slavic tribes, Thuringia has a tremendous wealth of medieval castles and ruins, many of which are in the Saale region.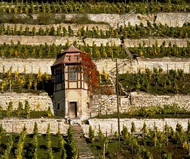 The countryside here features gently rolling wooded hills, dark valleys and water, interspersed with a touch of Italian flair. Make your way up to the stone reminders of bygone ages and set off on an historical adventure. The winegrowing region of Saale-Unstrut on the middle Saale around the charming medieval town of Naumburg is not big, but the word is that first-rate wines are produced here.
It is a particularly attractive area of countryside with a unique blend of terraced slopes, dry stone walls, vineyard huts and row upon row of vines. Just like Tuscany, the region enjoys around 1,430 hours of sunshine throughout the year. The Saale Cycle Route is an ideal way to see it all.