Exhibition centres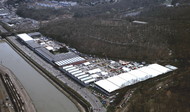 Saarbrücken Exhibition Centre is situated close to the city and is only five minutes by car from the border with France. The Saar-Lor-Lux region is served by a variety of airports: Saarbrücken, Zweibrücken, Frankfurt Hahn, Frankfurt, Stuttgart and Luxembourg. On a main railway line between France and Germany and with a comprehensive network of autobahns, Saarbrücken is easily accessible from almost anywhere in Europe.
Saarbrücken Exhibition Centre
Saarbrücken Exhibition Centre comprises 13 halls with a total area of 25,700m², as well as outdoor grounds of 25,700m². Halls 1 and 2 can be combined, making them suitable for larger events with up to 3,500 people. There are also both luxury and mid-range hotels in the surrounding area.
Contact:
Saarmesse GmbH
Gersweiler Str. 78
66117 Saarbrücken
Email:
messe@saarmesse.de
Website:
www.saarmesse.de
Top of page
Map of Germany
Map showing all of Germany's TOP travel destinations...
Click here!
Search in surrounding area