Suggested excursions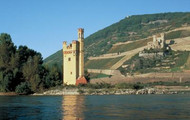 The varied countryside between the gently rolling Taunus hills and the rugged Loreley Valley offers plenty of opportunities to create a tailor-made holiday in Rüdesheim and the surrounding area.
The Rheingau
The region has been called little "Burgundy on the Rhine" due to its extremely mild climate, sheltered by the high hills of the Taunus and not least because the southern slopes of the Taunus hills extend down into the Rheingau, one of Europe's loveliest wine-growing regions and the home of the famous Rheingau riesling wines.
Ruins of Ehrenfels Castle
Around the year 1220, the Archbishop of Mainz had an imposing palace built on the site of an earlier castle and used it to raise lucrative transit tolls. Its strategically favourable position led to it being hard fought over in the Thirty Years' War and in 1689 it was finally destroyed by fire. Since then, the silhouette of Ehrenfels Castle with its two towers has become one of the most photographed castle ruins on the Rhine.
Top of page
Map of Germany
Map showing all of Germany's TOP travel destinations...
Click here!
Search in surrounding area