Rothenburg ob der Tauber - Other areas of interest
Top of page
Museums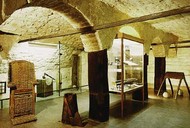 In the Crime Museum, visitors can see historical objects relating to the law, instruments of torture, drawings, documents and seals dating back seven centuries. The Christmas Museum illustrates the history of traditional German family Christmas celebrations and the Doll and Toy Museum features the history of playthings.
Medieval Crime Museum
Housed in a former religious building of the Knights of St John of Jerusalem dating from 1396, the Medieval Crime Museum is the foremost law museum in Germany. Covering approx. 2,000m² across 4 floors, it provides a comprehensive insight into legal proceedings and the development of jurisprudence, laws and the penal system in the German-speaking countries over the last 1,000 years. In addition to documentation on criminal proceedings, loss-of-honour punishments and police law, the museum also has instruments of torture, stocks, masks of shame, collars of shame, shrew's fiddles and shame flutes. The collection also includes books, graphics and legal letters, caricatures about the judiciary and legal ex-libris. In addition, there are presentations on legal aspects of everyday life – such as schools and their punishments, marriage and clothing regulations and much more besides. Open daily.
»
www.kriminalmuseum.rothenburg.de
Doll and Toy Museum
The Doll and Toy Museum is located in two buildings, one dating back to the Middle Ages the other from the baroque age, and has documented over 200 years in the history of playthings since 1984. More than 800 German and French-made dolls, doll's houses, rooms, kitchens, and shops, all fitted out with all the tiny things essential to a perfect doll's world. Doll's theatres, model railways, tin toys, carriages, farms, schools and merry-go-rounds, hand-carved wooden toys and thousands of cute accessories from a long forgotten world make this more than just a nostalgic journey down "memory lane". Open daily.
»
www.spielzeugmuseum.rothenburg.de
German Christmas Museum
Since 2000, Rothenburg ob der Tauber has been home to the German Christmas Museum, where every day feels like Christmas. The exhibition comprises more than 5,000 exhibits, giving an overview of the history and the secular customs of Christmas festivities from the 4th century up to the 1950s. Historical tree decorations made of glass, wax, cotton wool, tin, cardboard and tragacanth, also candleholders, decorations for the tops of Christmas trees and tree stands, figures of Father Christmas, advent calendars, paper nativity scenes, Christmas pyramids, 'angel of light' decorations, incense burners and historical nutcrackers, all in beautiful surroundings, illustrate how the celebrations of the season have changed over time, and whisk visitors off into a Christmas wonderland at any time of the year. Closed on Good Friday, guided tours on request.
»
www.weihnachtsmuseum.com
Imperial City Museum
The Imperial City Museum in the medieval Dominican convent illustrates the art and culture of the age when Rothenburg ob der Tauber was a free imperial city. The original convent kitchen, the "Rothenburg Passion" panels, the Baumann art and weaponry collection, a gallery of 19th century art and an important Jewish section are the highlights of the museum. Open daily.
»
www.reichsstadtmuseum.rothenburg.de
Old Rothenburg tradesman's house
Built between 1270 and 1300, this timber-framed house, complete with original furniture and fittings in its 11 rooms, has been a museum since 1976 and provides a vivid illustration of the style of living and working environment of a simple tradesman and his large family several hundred years ago. The house was inhabited by different tradespeople for seven centuries: coopers lived in it from 1300 to around 1500, then dyers and shoemakers. They were followed in quick succession by potters, tinkers, basket makers, soap makers, cobblestone layers, tin casters and bricklayers. Closed from January to Easter.
»
www.alt-rothenburger-handwerkerhaus.de
Top of page
Map of Germany
Map showing all of Germany's TOP travel destinations...
Click here!
Hotels in Rothenburg ob der Tauber
Search in surrounding area