Permanent exhibitions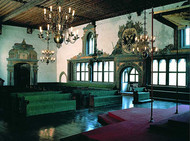 Permanent exhibitions offer interesting insights into the town's history and other specific themes. The Reichstag Museum traces the history of the imperial diets and the functioning of the "perpetual imperial diet".
The Reichstag Museum
The museum's centrepiece is the Imperial Hall, a Gothic banqueting hall which, from 1663, was the permanent seat of the imperial diet of the Holy Roman Empire. This was Germany's first parliament building and is now a museum and monument. The museum examines the history of the imperial diets and the place where they met, and looks at the town's legal system.
Cathedral Treasury Museum
The permanent collection contains treasures from the late Middle Ages. The Regensburg enamel box is thought to have been made in a workshop of one of the French royal courts in around 1400. It is a rare example of the opulence and refinement of bygone days, decorated with golden moons and fantastic mythical beasts.
Top of page
Map of Germany
Map showing all of Germany's TOP travel destinations...
Click here!
Search in surrounding area