Places of interest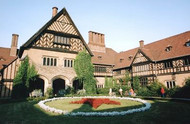 Potsdam's palaces and gardens are among the most beautiful places to visit. Palaces such as Sanssouci and Babelsberg, Cecilienhof and the New Palace are striking reminders of Potsdam's role in German history. The historical districts such as the Russian colony of Alexandrovka, the weavers' quarter and the Dutch quarter give Potsdam a real European feel.
Sanssouci Palace and Park - UNESCO World Heritage site
Sanssouci Palace was the summer palace of Frederick the Great. It was built on a terraced vineyard between 1745 and 1747 by Georg Wenzeslaus von Knobelsdorff based on ideas and sketches supplied by the king. The palace is a leading example of German rococo architecture, and contains masterpieces by artists such as Watteau, Panini and Pesne. Sanssouci Park also contains other palaces such as New Palace, the Orangery and Charlottenhof Palace.
Old town and historical districts
Together, the three city gates, the town houses and the streets of the old quarter form an atmospheric ensemble. 130 brick houses with sweeping gables built in the typical Dutch style give the Dutch quarter its distinctive feel. The Russian colony of Alexandrovka with its decorated log cabins was built in the early 19th century for singers in a choir.
Neubabelsberg residential district
Visitors can admire the fascinating architecture of the residential area of Neubabelsberg in Babelsberg, Potsdam's largest district. Mansions by Muthesius, Mies van der Rohe and Grenander, stately homes used by Truman, Churchill and Stalin. Traces of Ufa studio stars such as Marlene Dietrich also remain to this day . The border between East and West Germany ran through Babelsberg and down the middle of the Glienicker Bridge which became famous as the place where spies were exchanged during the Cold War.
Top of page
Map of Germany
Map showing all of Germany's TOP travel destinations...
Click here!
Search in surrounding area