Suggested excursions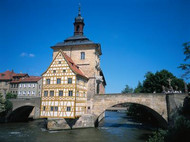 Nuremberg is the ideal base for a wide range of outings to historical towns and cities or Franconia's holiday regions. The city lies at the point where a number of scenic routes intersect, including the Castle Road, the German Toy Road, the Beer and Castle Route and the Golden Road.
Franconian Switzerland and the Castle Road
Franconian Switzerland is one of Germany's oldest and most popular holiday regions with a landscape of small farmsteads interspersed with romantic rivers and twisting valleys. Take a tour by bike, car or motorbike along the delightful Castle Road which runs through the heart of this region and is one of Germany's oldest scenic routes. Fully signposted and running for around 1,000km from Mannheim to Prague, it offers plenty of diversity, historical sites and delightful scenery peppered with romantic castles and fairytale palaces.
Bamberg
Visit Franconian Bamberg, a former centre of imperial and episcopal power 55km north of Nuremberg, and discover the old quarter with its mix of Gothic and baroque architecture, now designated a UNESCO World Heritage site. The imperial cathedral with the famous statue of the "Bamberg Rider" is instantly recognisable.
Ansbach
Some 60 kilometres to the south-west of Nuremberg lies the impressive town of Ansbach, a former seat of royal power, tucked away between hills and forests. Besides the old quarter, the jewel in the crown of this baroque town is the former margravial palace, one of the foremost 18th century palaces in Franconia. Visitors can view 27 resplendent rococo state rooms, plus the banqueting hall, the mirrored hall and the tiled hall.
Top of page
Map of Germany
Map showing all of Germany's TOP travel destinations...
Click here!
Search in surrounding area