Garmisch-Partenkirchen - Other areas of interest
Top of page
Food & drink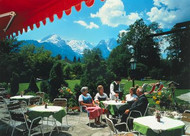 In Garmisch-Partenkirchen, visitors can choose from a wide range of restaurants, cafés and bars. There is something to suit every taste and budget, from simple snack bars to rustic inns to gourmet restaurants.
Restaurant Alpenhof
Bavarian and mediterranean cuisine, café with homemade cakes, large sun terrace with covered walkways and view of the Wetterstein mountains, right in the pedestrianised area.
Restaurant in the Grandhotel Sonnenbichl
The "Blauer Salon" is the hotel's gourmet restaurant. Seasonal international dishes created to the head chef's own recipes and a fine wine list, served up in a stylish ambience.
Top of page
Map of Germany
Map showing all of Germany's TOP travel destinations...
Click here!
Hotels in Garmisch-Partenkirchen
Search in surrounding area